Celebrity Summit's Café al Bacio Features Great Coffee Plus Ocean Views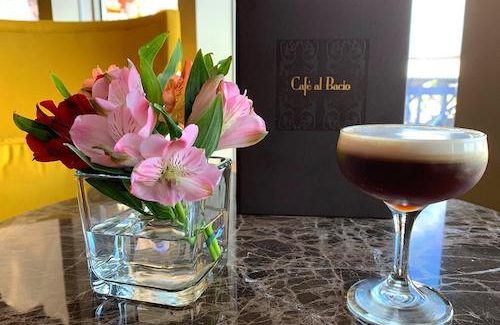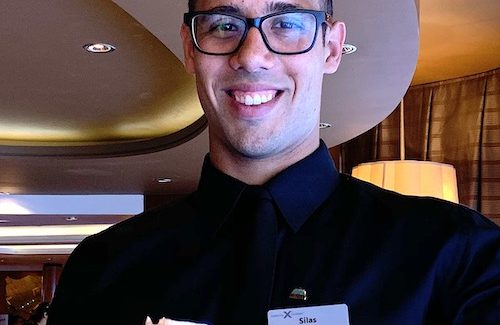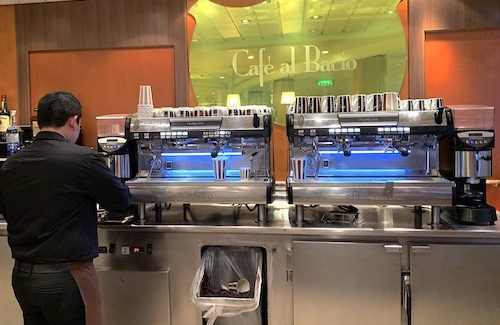 I don't even drink coffee. So what was I doing sitting at Café al Bacio on the newly renovated Celebrity Summit?
I was enjoying the ocean view and sipping a chilled Tia Cappuccino. Yes, it did have expresso in it, but the yummy drink also had Tia Maria Liqueur, Tito's Vodka, creamy foam and salted caramel.
Crew member Silas who delivered my coffee said the ambiance of the café was inspired by European coffee shops. With its muted brown and gold colors, Café al Bacio was a pleasant place to relax and watch the ocean outside the large windows.
Café al Bacio serves the famous Lavazza Coffee from Italy's leading expresso coffee company. Lavazza has been roasting coffees for more than a century at its plant in the northwest Italian city of Torino.
Lavazza roasts its coffee beans in air convection roasters which guarantee that each bean is evenly browned and scorched for maximum taste.
Other menu choices at Café al Bacio sounded very tempting as well. In addition to regular expresso, the Macallan Reviver seems to be popular, Silas said. It has expresso, Macallan Scotch, spiced pineapple syrup, maple syrup, lemon and expressed lemon peel.
The Highlander Cappuccino sounds interesting as well – Highland Park Scotch, expresso, coconut puree, vanilla liqueur and Angostura Bitters.
Café al Bacio also offers Tea Forte. The teas are blended with fruits, herb and flowers. The café has some delicious-looking fresh-baked pastries and sweets but I didn't sample those. Although they were very tempting, I was heading to dinner soon and didn't want to ruin my appetite by starting with dessert.
Launched in 2001, the Summit is part of Celebrity Cruises' biggest fleet-wide modernization ever. More than $500 million in luxurious upgrades are being made to the brand's fleet.
Photos and story by Jackie Sheckler Finch