Celebrity Edge Features Infinite Veranda and Much More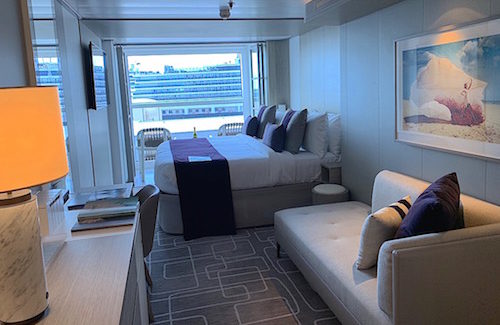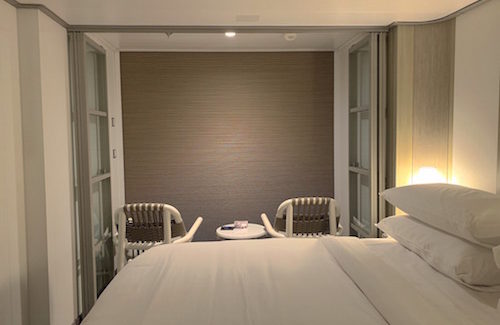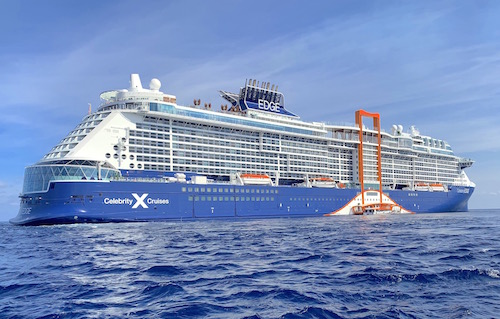 I could write a book about what has been called the "most anticipated new ship of the year" but let me share a few – besides the Magic Carpet – of my favorite discoveries aboard the Celebrity Edge.
First the fast facts: the 14-deck Edge is the first ship designed entirely in 3-D. The Edge can carry 2,918 passengers and has a crew of 1,320 from 60 countries.
The ship's godmother is Malala Yousafzai, the young Pakistani activist supporting female education who was shot on the left side of her head in October 2012 by a masked gunman who had boarded her school bus. After months of surgery and rehabilitation, Malala continued her fight for female education and established the Malala Fund. In recognition of her work, she received the Nobel Peace Prize in December 2014, becoming the youngest ever Noble laureate at age 17.
My Cabin's Infinite Veranda
Billed as a first for an ocean-going vessel, the Edge's Infinite Verandas are designed to bring passengers closer to the ocean and to ports. Walking into my cabin, it looked like the far ocean wall had one big window that went from side to side and ceiling to floor. No curtains. No worries. With the push of a button, I could roll down an adjustable shade that blocked out sunlight.
Or, with the push of a button, I could lower the top of the window to provide an unobstructed view of the ocean along with the sound of the waves. My cabin had bi-fold doors that could be completely closed to create a traditional room separated from the balcony area. Or left open, the bi-fold doors could create a wide-open indoor space that was about 23 percent larger than traditional balcony cabins. Of the ship's 1,467 rooms, 916 are Infinite Verandas.
Another plus in my cabin was what looked like a jewelry box on the desk. Really it is a hideaway for electric plugs and USB chargers. The ship's cabins also feature new technology that lets passengers control room lighting, shades, temperature and television from an app on their phone.
As part of Celebrity's commitment to environmental protection, the ship's bottled water in my room was served in reusable recycled aluminum bottles. To me, it also seemed to taste better and colder in aluminum rather than wasteful plastic containers.
Story and photos by Jackie Sheckler Finch