Specialty Cruising Archives - Crown Cruise Vacations
July 24, 2013 | Roger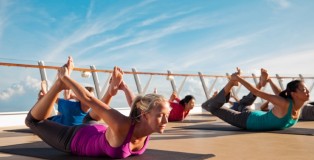 Cornerstone Health and Wellness of New Jersey and Crown Cruise Vacations are getting together to provide cruisers the chance to get fit with fun and to leave the gym at home with the Sea Fit cruise this October. It's seven days of relaxing and working out – getting fitness enthusiasts some new tips to bring home to their workout regimens, and giving converts just getting into exercise a chance to develop their own routine aboard the Explorer of the Seas October 13-20. Read more...
October 10, 2012 | Ross
Crown Cruise Vacations, preferred provider of PTV at Sea events, and Artful Travelers, producers of PTV at Sea, present four unique public broadcasting educational adventures at sea.
This is a rare opportunity to cruise while meeting and interacting with fascinating experts and their featured guests at panel discussions and presentations in the areas of history, politics, culture, personal finance, health and wellness and more. Read more...