Carnival unveils first roller coaster at sea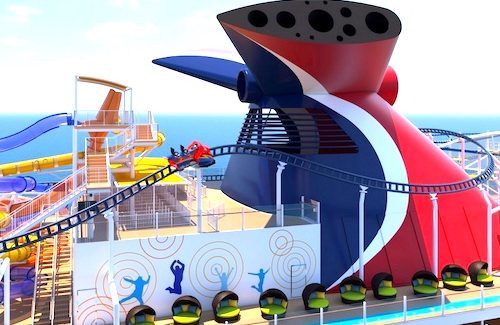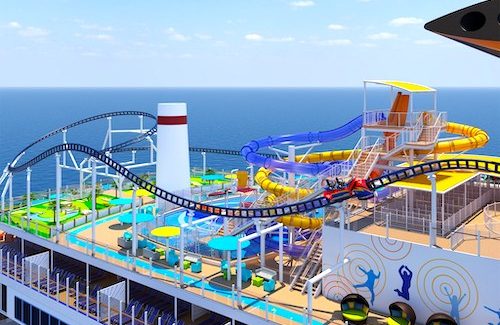 Imagine soaring high above the sea in a zooming roller coaster. Carnival Cruise Line is building the first roller coaster at sea for its magnificent Mardi Gras, set to debut in August.
"Whether guests want to get an adrenaline rush or take it slow and enjoy the breathtaking views, BOLT will have it all," said Carnival Cruise Line President Christine Duffy.
"Combining the most talented designers, technicians and attractions professionals in the industry, we've taken fun to a whole new level with this amazing onboard experience that is also a true game changer in our industry."
Duffy revealed that BOLT's all-electric, motorcycle-inspired vehicles will be adorned with metallic red and blue stripes and an eye-catching yellow lightning bolt.
The vehicles also will feature a digital speedometer display and speakers with new sound effects that will activate to enhance the exhilarating one-of-a-kind experience.
BOLT will take center stage in the Ultimate Playground, one of Mardi Gras' six themed zones, spanning Decks 18-20 and home to the largest WaterWorks aqua park in the Carnival fleet.
For the BOLT experience, cameras will be located along the 800-foot-long track, as well as within the vehicle itself providing riders with unique photo keepsakes as they take in 360-degree views and race 187 feet above the sea with drops, dips and hairpin turns achieving speeds of up to 40 miles per hour. Guests choose their own speed so no two rides will ever be the same.
Currently under construction at the Meyer Turku shipyard in Turku, Finland, Mardi Gras is set to enter service in Europe on Aug. 31 before repositioning to New York for a series of voyages. Mardi Gras will then shift to Port Canaveral for year-round seven-day Caribbean cruises beginning in October.
Story courtesy of Jackie Sheckler Finch. Photos courtesy of Carnival Cruise Line