Carnival Sensation afternoon tea is relaxing treat - Crown Cruise Vacations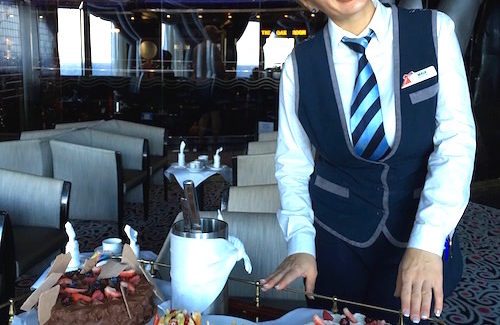 By Jackie Sheckler Finch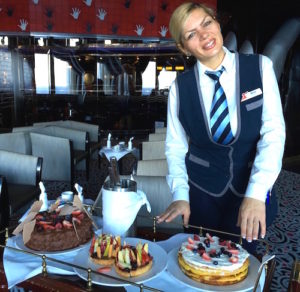 On our first relaxing day at sea, I went to the afternoon tea in the unusual Touch of Class room. To enter the room, you walk through a doorway composed of two giant silver hands arched upward with fingertips touching.
Window seats also are created by the same arched hands. Red tiled walls have black and white handprints.
A little girl named Kimberly from Miami came skipping in the room along with her grandmother. Kimberly sat primly while she was served tea, tiny sandwiches and sweets.
"I've never had tea like this before," Kimberly whispered, adding that her brother is swimming in the ship's pool with their father while she enjoys her special time with "Grammy."
I'll bet that tea time with her grandmother is something that 5-year-old Kimberly will remember long after our cruise is over.
Photo by Jackie Sheckler Finch