Carnival Cruise Line Resuming Regular Calls to Grand Bahama - Crown Cruise Vacations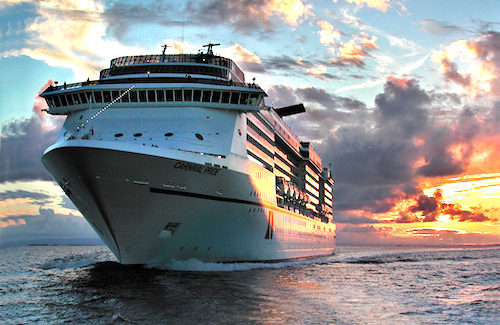 Visitors are heading to the Bahamas again after the islands took a major hit from Hurricane Dorian in early September. Carnival Cruise Line and other ships have already resumed port calls in Grand Bahama and the country's tourism board says it expects flights between the island and Fort Lauderdale to resume in mid-November.
All told, by the end of the year Carnival Cruise Line expects to host 39 calls in Freeport, bringing more than 100,000 visitors to the destination and providing a significant impact to the local economy.
"Carnival Cruise Line is proud to be such a big year-round supporter for cruise tourism to Freeport so we are very excited to provide our guests the opportunity to again visit this popular destination," Terry Thornton, Carnival's senior vice president of nautical and port operations, said in a press release.
"Cruise ship visits are important to the local economy and our shore excursion team has been working closely with local tour operators and has confirmed a variety of attractive onshore excursions for our guests," Thornton said.
For 2019, more than 400,000 guests will visit Grand Bahama on a Carnival cruise vacation aboard 10 different ships sailing from nine U.S. homeports.
"The rebuilding of Grand Bahama has begun," said Senator James Kwasi Malik Thompson, minister of state for Grand Bahama.
"We welcome the return of Carnival Cruise Line back to Grand Bahama after Hurricane Dorian," Thompson said. "Carnival is an incredible partner for the Bahamas and Grand Bahama."
Grand Bahama and the Abaco Islands took catastrophic hits from Dorian. Winds tore through the north Bahamas at 185 mph, killing at least 56 people and leaving hundreds missing.
One month later, infrastructure problems continue to plague relief efforts in some areas. Problems include lack of clean drinking water, blocked roads and unreliable power grids.
On October 7, Carnival Ecstasy arrived in Freeport to undergo an extensive 12-day dry dock at the Grand Bahama Shipyard. Ecstasy became the first cruise ship to use the facility since Hurricane Dorian.
Carnival Cruise Line relief efforts also include a $2 million pledge from Carnival Corporation and the Micky and Madeleine Arison Family Foundation, as well as relief shipments delivered by Carnival Cruise Line ships and via a partnership with Tropical Shipping.
Carnival employees and guests have donated well over $500,000 through online giving tools and collections on embarkation day and onboard.
By Jackie Sheckler Finch , Photo courtesy of Carnival Cruise Lin