Acupuncture a Popular Treatment on Cruise - Crown Cruise Vacations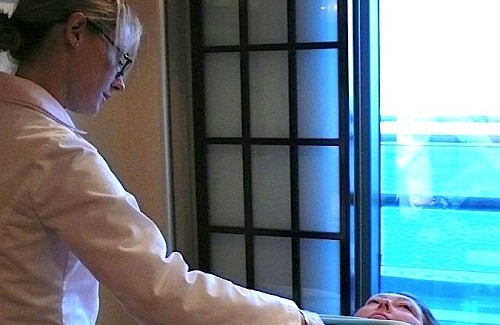 With acupuncture needles sticking out of her body, my daughter Kelly began to think she must be nuts.
Why did she choose this spa treatment? She could be pampered with a soothing aromatherapy massage or a relaxing seaweed facial. Why was she letting a woman stick needles in her?
On the luxurious Ruby Princess in the middle of the blue Caribbean, Kelly and I were looking to expand our horizons.  "It's a chance to try something new, something you might not have had time to do before," a guide said, giving passengers a tour of the ship's Lotus Spa and Fitness Center.
To share what is available, the Ruby Princess offers complimentary tours of the spa and free seminars on some of the services. Spa treatments include traditional hair and beauty services, massage, wraps, aromatherapies and even teeth whitening.
In the state-of-the-art fitness center, a professional staff oversees the latest weight and aerobic conditioning equipment, elliptical machines and more. They also offer individualized training, plus an array of classes ranging from yoga and Pilates to kickboxing and nutrition classes. With the treadmills and other exercise equipment facing a huge windowed wall overlooking the ocean, it's really hard to beat the scenery.
For the free acupuncture seminar, Kelly and I listened as a licensed acupuncturist described the benefits of the ancient Chinese treatment – the technique of inserting and manipulating very fine needles into specific points on the body to relieve pain or for therapeutic purposes.
Acupuncture treatments at sea have been offered on cruise ships since 2003, the guide said. There are more than 60 acupuncturists at sea right now on cruise ships. When the acupuncturist asked for a volunteer to demonstrate how the needles are used, Kelly was first to respond.
I volunteered to take photos and notes.
After the free seminar, Kelly signed up for an acupuncture treatment. Although it initially seemed strange to be lying on a massage table in the beautiful spa while the acupuncturist inserted about a dozen needles, Kelly said the needles didn't hurt.
A couple of the needle points became a bit warm, especially one in the lobe of her ear. Then, Kelly said, it was as though her ear "popped" – similar to the experience of changing altitudes in an airplane.
Before our trip, Kelly had been fighting a mild ear infection and had gotten antibiotics from her doctor in case it got worse on our weeklong cruise. Whether it was the acupuncture or the antibiotics, Kelly said her earache was gone after her acupuncture session.
By Jackie Sheckler Finch
The Ruby Princess cruises the seas and you can join in! Click here to start planning your vacation today!